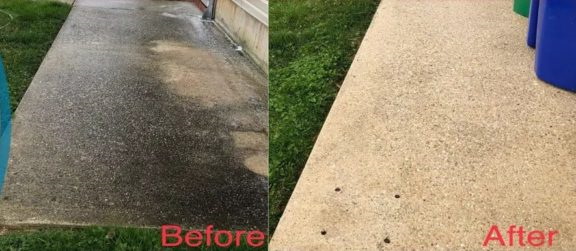 If you are looking to have your house's exterior or other surfaces cleaned off, Capital Soft & Pressure Wash LLC offers a comprehensive pressure washing service for the occasion. This process is highly efficient and fast, allowing us to handle your cleaning with expediency. Don't settle for second best, secure satisfaction with our top-of-the-line services. In addition, pressure washing is excellent for preparation before exterior painting.
To take advantage of our fast and efficient pressure washing services, go ahead and contact us today!
Sidewalks, Driveways, Concrete Parking Lots
When you consider the fact that your driveway takes up half of your front yard, it's a fairly easy choice to decide that it's important to keep clean. Our Pressure Washing Experts and state of the art equipment work together produce a thoroughly clean driveway in the most time-efficient manner!
We can also remove rust stains from your concrete caused by irrigation. Dirt, mold, and mildew collect on brick and block, which must be cleaned. There are many different kinds of bricks, and some of them can't resist as much pressure as others. To achieve these requirements, we can modify the pressure.